Beautiful photos of our new 'Bohemian Chic collection' taken by the leading interiors photographer Russ Sadur and the whole photo shoot was planned and styled by one of the UK's top stylists Diana Civil  .
Diana was commissioned this Spring by Julia our Interiors Design Director to shoot a 'Bohemian Chic' scene using our new Sundara bed linen collection showing how one can create a chic look simply by adding various  throws and textured fabrics to create simple but stunning looks in your bedroom or apartment.
Julia was inspired by her love of colour and traditional Indian hand block prints, to create this lovely range, many hours were spent last year working with our surface pattern designer Rachel, to capture the essence of Romantic India with the two main patterns of Sundara the larger floral pattern on the main face of the Sundara duvet cover, and the smaller more delicate Dara motif on the rear, the first ever duvet set were printed on a lovely percale cotton in England.
The gorgeous fuchsia pink cushions you can see on the bed were a collaboration between Julia and one of Jaipur's leading master block printers, each cushion is hand made by dipping a wooden block in natural colour dyes and careful applying the design.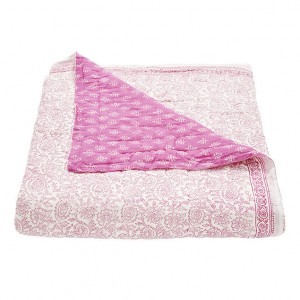 Harmony Hand block printed quilt
The harmony quilt seen here was also hand made by the same family in Jaipur.
These photos here are using the Sundara King size duvet set and pillowcases with the Harmony fuchsia quilted throw, completing the look a selection of Bohzaar Bohemian cushions.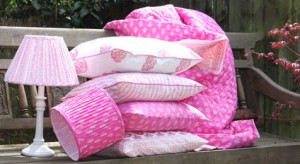 Boho cushions and quilt from Bohzaar
We have also have on our website some great new Mohair mix throws in Deep Reds, Purples, Burnt Orange, Blues, Berry shades.Mohair and Wool Throws Here
Notes:
PR Contact:  Alex at "Room PR"
All copyright is with Bohzaar Ltd.
Press, Media  and Bloggers  please contact Alex [ alex@roompr.com ] before using our images.
Pinning is OK, but please help us by mentioning our web address "Bohzaar.co.uk" as we are a new company and value your help and support, thank you.