You may have seen our new Table Linen range "Great Linen by Nomads" featured in House And Garden magazine or Hello Magazine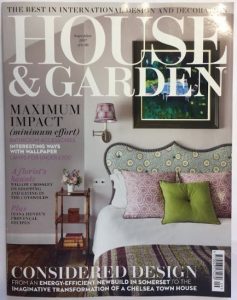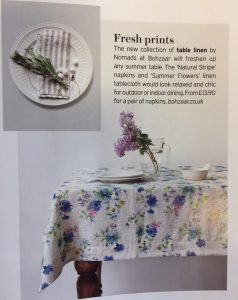 We are so pleased to have been able to stock this amazing collection of printed and coloured linen napkins and tablecloths.
Left Hand side is Summer flowers on White Linen
Right Hand Side is Summer flowers on Natural Linen
The linen flax used is 100% pure Baltic Linen, which is some of the best quality produced in Europe, and will give you years of use and pleasure, and the more you wash it the softer it gets.
We are currently stocking the three most popular sizes of 140cm x 200cm, 140cm x 250cm, and 140cm x 300cm.
The Floral Table cloth shown in House & garden was Summer Flowers on a pure White Linen, plus we also stock Summer Flowers on a Natural Linen which gives a more Rustic Farmhouse look (imagine a country Cotswold house or French Gite).
We are also stocking an incredible range of Matching and complementary napkins and other table cloths, from printed to a whole spectrum of colour tones, such as Pure Brilliant Whites, Creamy Vintage Whites, Blue Stonewash, Light Grey, Dark Grey, Mustard, Pinks, Lavender, Moss Green,