Well we have just finished 4 hectic days at the RHS Malvern Spring show at the Three Counties show ground Worcestershire.
We met hundreds of great Textile Fans and took great pleasure and pride in showing our New Bohzaar collection. We would like to thank every visitor who took the 5 minutes in their busy show day to give us some great feedback and lovely comments.
The reaction was very positive and lots of smiling faces, and all the visitors to our stand in the Wye hall appreciated the opportunity to handle and feel our different fabrics and learn about our big journey to find the best Bed linen from around the World (including the UK!) in some amazing colours.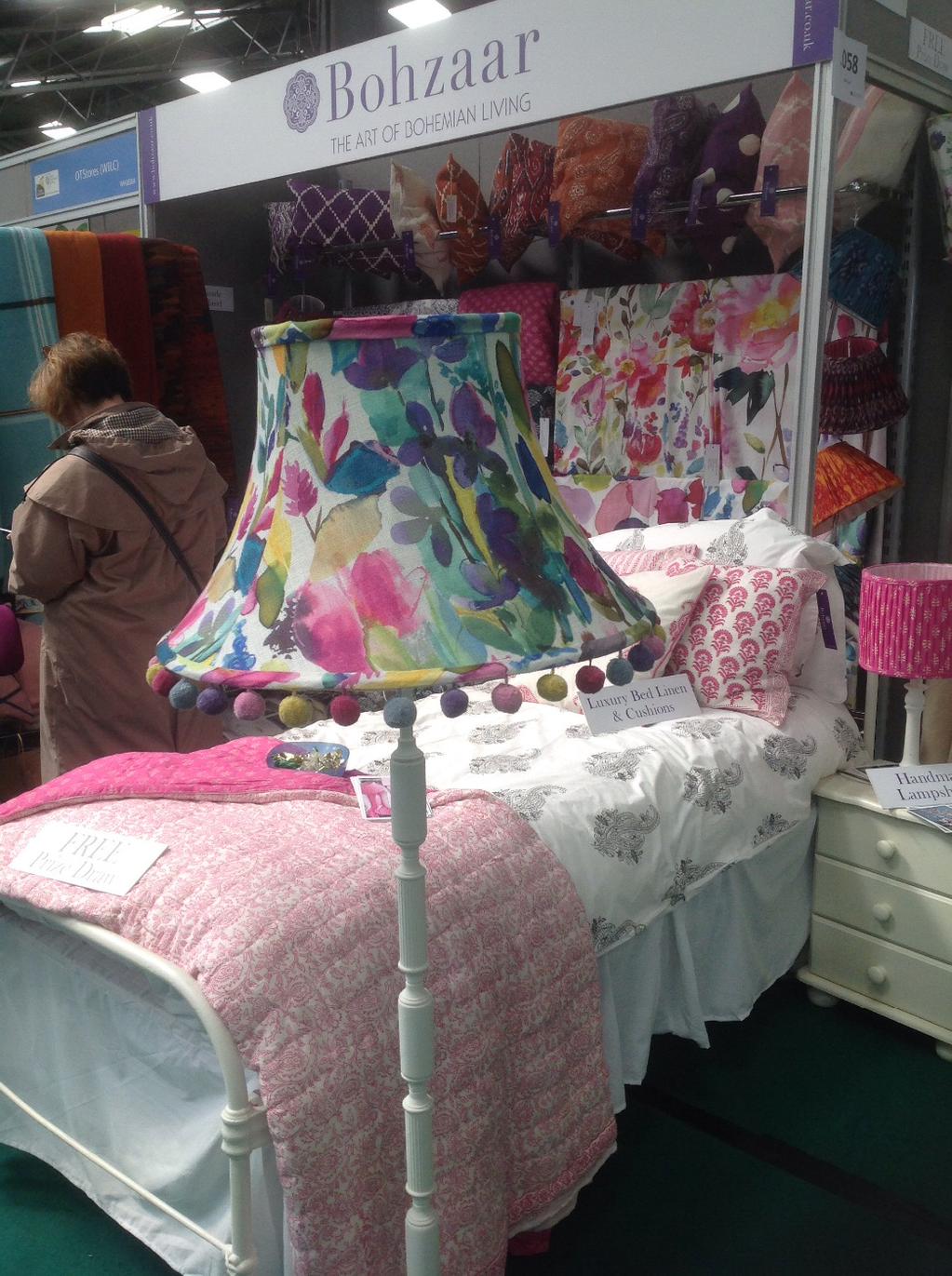 This was our first ever public show with the new collection, and being mainly online usually, it was great to meet regular interior design craft friends face to face and meet hopefully new fans as well. We are really looking forward to locating a new retail premises locally where we can show our full range of bed linen and new products groups such as beds, furniture, increased Fabric collection and interior trims, beads, 'pom pom's' etc for all you crafters that we met this week. Our delay has been in finding; a site big enough for the full range, high quality natural light (essential for any textile company) and sufficient visitor parking right outside, but we are hopeful that this year we will solve this challenge too.
Ok so lets start a recap on this years 2015 RHS spring show, Flowers, shrubs hard graft, Skill, Talent and zillions of TLC has yet again gone into creating an amazing show, and such a great venue with our famous Malvern Hills as a backdrop, we live locally so we get to see the Hills every morning from home, and while working in Malvern and the surrounding area, we are very lucky really. But for 9 hours of the day we were just as happy to be showing our New Colours, patterns and discussing latest Textile trends with every one.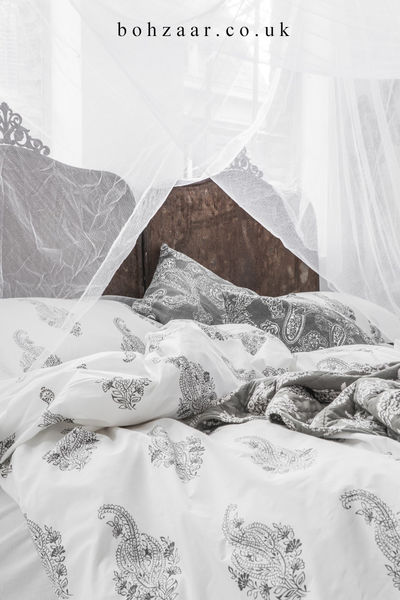 We showed our New Sundara collection in an Old French Grey colour with the New 'Harmony' Fuchsia Pink bed Quilt, nearly every body passing the stand who stopped to touch and stroke the Harmony Quilt commented on how soft and gentle it felt. We explained how we had commissioned it from one of Jaipur's leading 'master block printers', each quilt is hand blocked printed on large tables then left to dry naturally in the hot sun, the cotton is the best natural cotton and even the inside of the quilt is real natural cotton, thus keeping you warm and yet feeling very light when sleeping under it.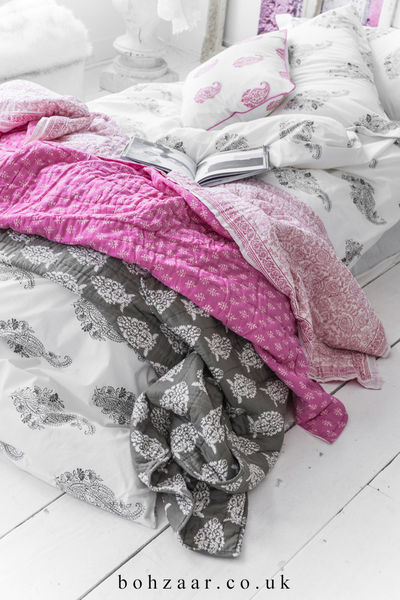 The Harmony Quilt was laid across our demo single bed which was showing our New Sundara Duvet with a larger motif set on the front face and the smaller Dara motif on the rear face, we have had this new duvet set made in the UK  at one of England's leading Traditional cotton Textile printers, we chose the best Percale cotton in a genuine 200 thread count, which once handled is a pleasure to feel and will give you years of use and pleasure. The duvet sets are available in Single, Double, King & SuperKing sizes, with a  matching Oxford Pillowcases.
We also showed how you could mix and match various different throws, quilts and colourful blankets to complement your bedroom or change the mood.
Also very popular was our display of the English designed Bluebellgray bed linen collection, this  Intense 'Water colour collection' was created by Fiona Douglas a brilliant talented young water colourist from Scotland.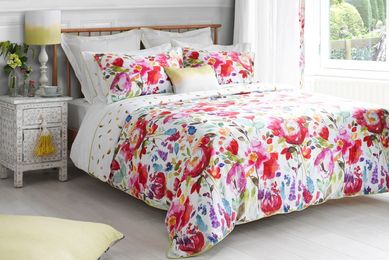 We had many eager visitors handling the four different designs of Taransay, Devon, Abstract and Mode collections.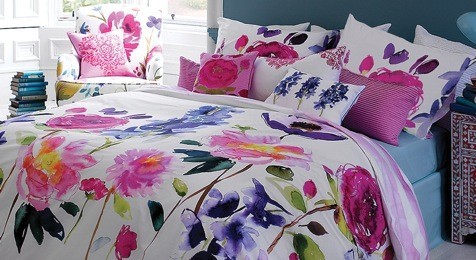 The designs are skillfully digitally printed onto the duvet sets at one of Europe's leading factories, they have to be seen and handled to appreciate how beautiful the colours are and how soft they are to sleep in .
These four designs are printed on a lovely Sateen 100% cotton, with great detailing such as her lovely real buttons on the flap and a different colour design on the rear face so in effect like the above Sundara you get two bedroom looks for the investment of one duvet bed set. Please note that on our website the final price includes the two pillowcases on the Double, King & Superking sizes (and one on the single included as well), as many other sites do not include the pillowcase in their offerings.
We are sorry we were unable to sell straight off the stand but space constraints prevented us from having the levels of stock we would have needed, but we carry good stock levels in our textile warehouse in Malvern which enables us to deliver across the UK via DPD couriers in usually 2 to 3 days. We have regular fresh supplies from all over Europe arriving weekly so if the size you require has sold out we can quickly satisfy your requests.
[To be continued in Part 2]